Obsessed With Crystal Tok? 11 Magical Accessories Every Amateur Witch Can't Live Without
Table of Contents Feeling witchy? Dare to take a dive down the magical, mystical rabbit…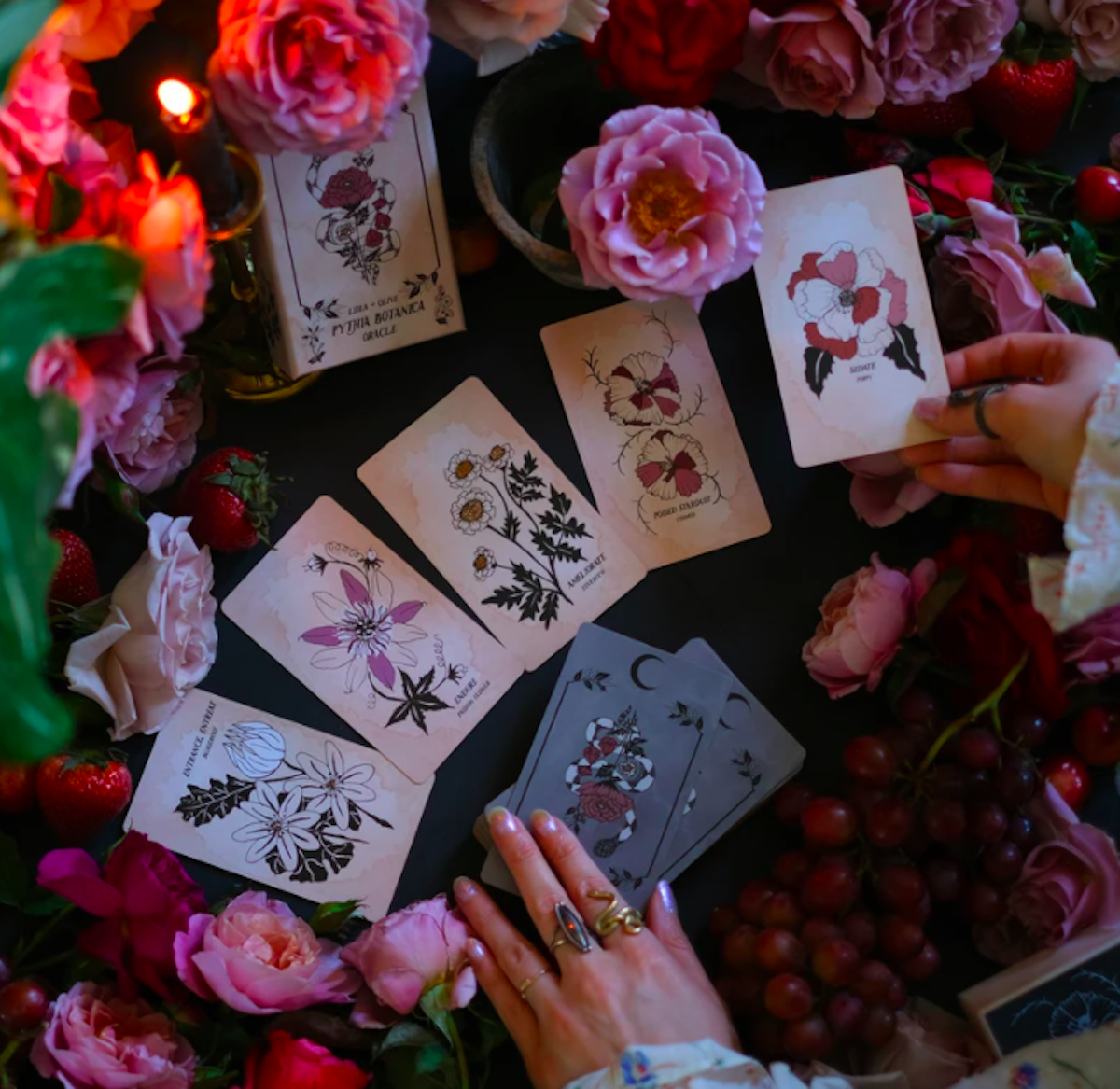 Feeling witchy? Dare to take a dive down the magical, mystical rabbit hole that is #CrystalTok—the corner of TikTok that is unequivocally obsessed with all things crystals. If you're new to the universe of healing crystals, there's a surprising amount to learn, and a lot of it co-mingles with self-care.
For instance, there are tumbled (smooth, no sharp edges) and rough (sharp edges) stones and each healing crystal is thought to come with its own set of various wellness benefits—physical, mental or both. There's pyrite for balanced emotions, rose quartz for self-love and selenite for peace and clarity. And so much more.
11 Magical Crystal Accessories
So, light your incense and whip out the ole spellbook. Keep reading for 11 magical crystal accessories to add to your collection. As always, the prices listed may fluctuate over time.
Whether you're looking for healing crystals for love, clarity or a sense of calmness, there's a Shoppe Geo Mini Stone Gift Box for you. Each mini stone pack has a different wellness theme featuring petite, rough crystals meant to cut through bad energies. In the love-themed box, it is said that rose quartz and clear quartz may enhance feelings of self-love and self-awareness and could stimulate personal growth. For clarity, you'll find selenite and fluorite, which some say will ward away negative energy and promote concentration. Lastly, clear quartz and amethyst are bundled together in the calm box and are often used to promote positive energy and overall healing.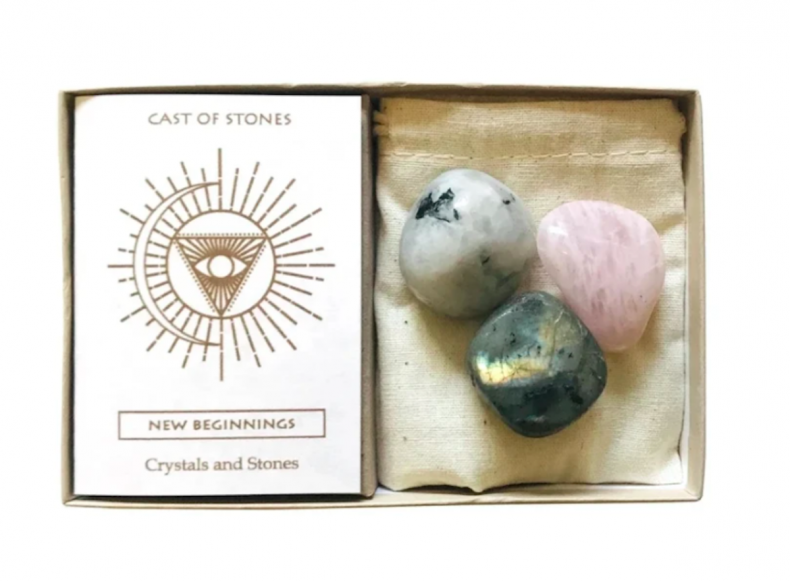 The Patet New Beginnings Stone Set is the perfect example of a bundle of tumbled stones, and they're even tiny enough to keep on hand. Store them in your pocket or purse or keep them on your car's dashboard to promote feelings of protection. Each stone symbolizes new beginnings—hence the name—including rainbow moonstone, rose quartz and labradorite. Keep this stone set with you at all times, and you may notice a reignited sense of positive energy, transformation and more powerful feelings of infinite love.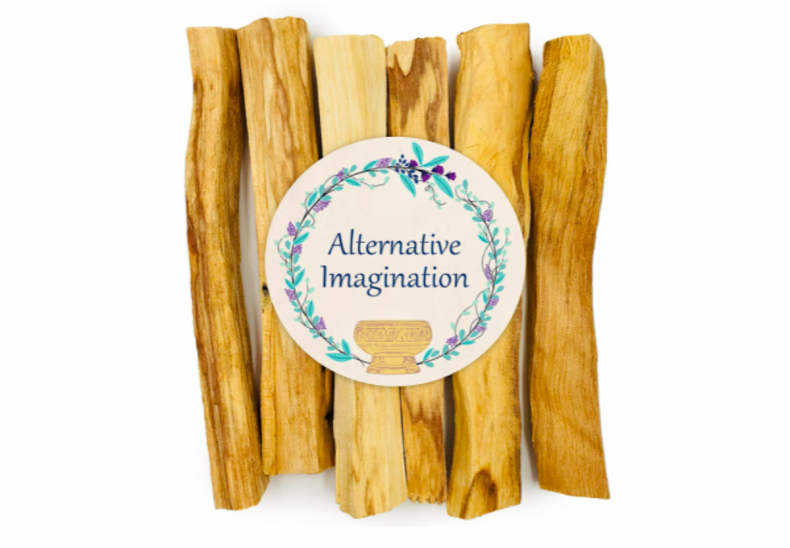 An alternative to smelly sage smudging (hey, it's not for everyone!), you can also use Alternative Imagination Premium Palo Santo Holy Wood Incense Sticks for purifying or cleansing the air of negative energy or spirits. But there are even more uses for Palo Santo incense sticks if you're willing to get creative. Use them in your meditation practice or light them at night, pre-bedtime for a little natural stress relief.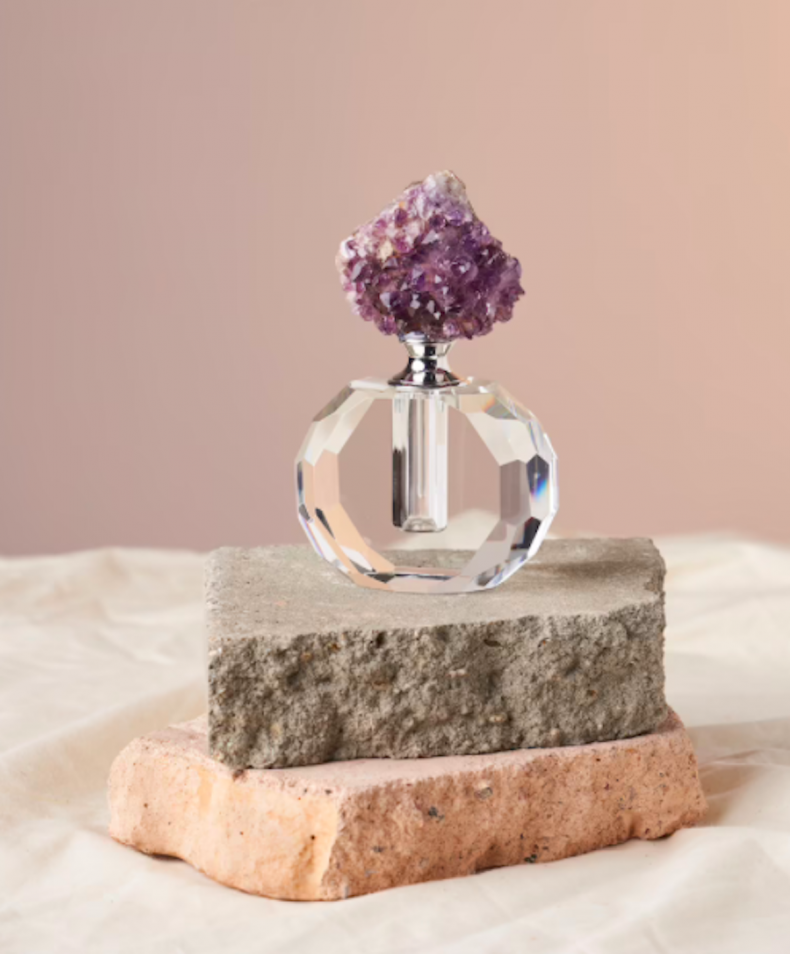 Now, this is something that may be new to even the most seasoned crystal-lovers: a gorgeous perfume bottle with a crystal topper that rests inside of it. Available only on Etsy, the Amethyst Perfume and Eo Bottle isn't just stunning in appearance, it is also believed to promote vibes of serenity and calm and can even relieve stress, anxiety and sensations of pain. While no actual perfume is included, you can use the gemstoned bottle to store your own homemade scents or essential oils. Or, you know, don't put any liquids in it and instead, display it on a shelf! It's that pretty.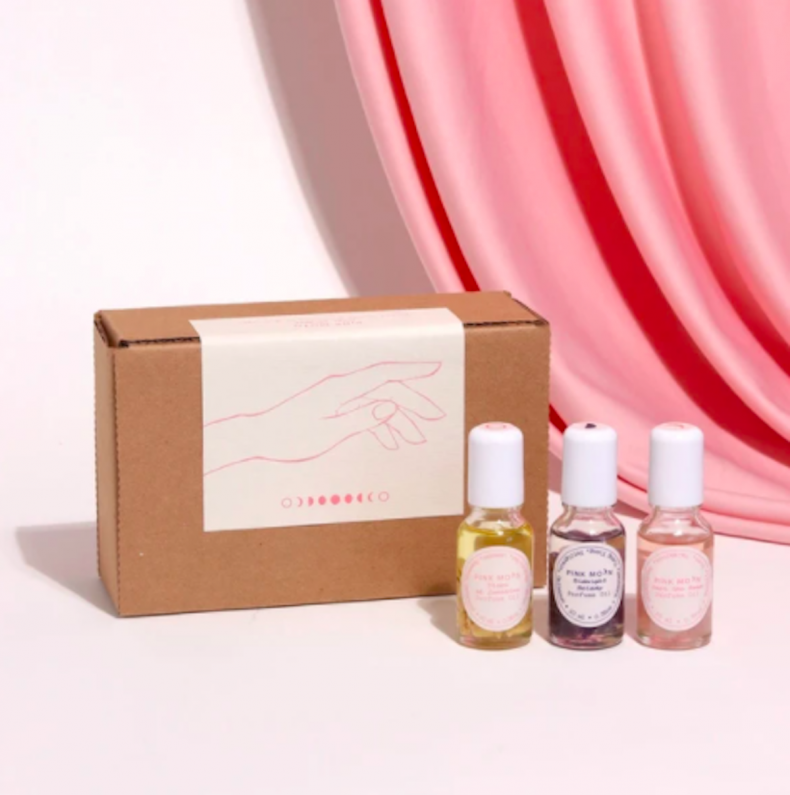 Have a crystal-obsessed friend? The Pink Moon Lunar Gardens Perfume Oil Set is one of those "one-for-you, one-for-me" gifts. (Not to mention, $2 of every sale is donated to the organization Every Mother Counts so that you can feel really good about this purchase.) A limited-edition set, each of the three perfumes—Drops of Sunshine, Midnight Melody and Over the Moon—is energetically charged with crystals and amplified with reiki by resident Reiki Master Jackie Ho. Each one is formulated in small batches and designed to boost the user's mental, emotional and physical well-being.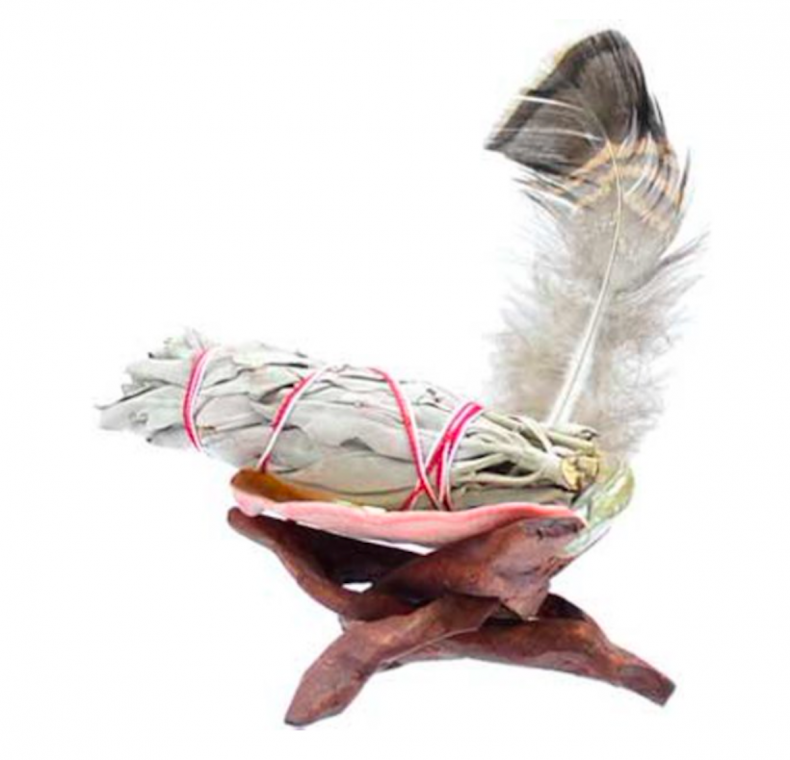 If you don't mind the oh-so-smelly smell of sage, then smudge away! The ancient practice of smudging has been around for centuries, with origins traced back to a Native American cleansing practice called The Sacred Smoke Bowl Blessing. The idea is that lighting the sage staves out negative energy or spirits that may be lingering in a space. The 4-Piece White Sage Smudge Kit cleanses your home (or any other area) and, along with the three-inch bundle of dried white sage, includes a few extra accessories for some flair: a small cobra stand, abalone shell and a feather.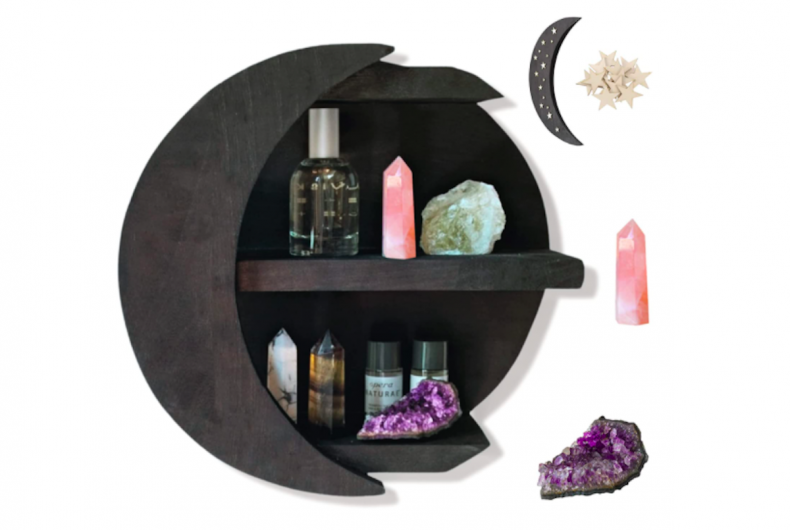 The Homenook Crescent Moon Shelf Set from Amazon comes with two crystals—amethyst and rose quartz—as well as glittery, adhesive stars to decorate the shelf. This hanging shelf designed in the shape of a crescent moon makes the ideal spot for your crystal collection, stones, essential oils, beauty rollers and more.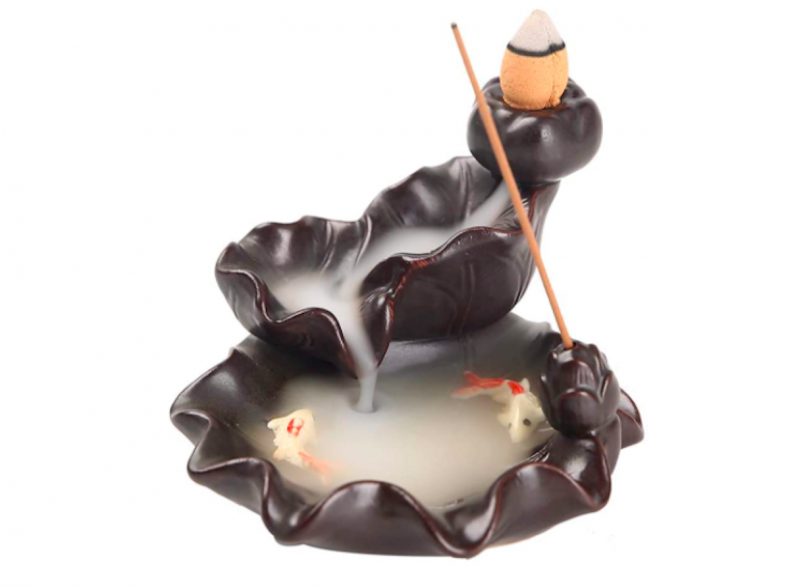 Skip the straight-forward, stick-in-the-mud incense burners that—let's be honest—are a total bore. Go all out for your incense with the Kingsglen Ceramics Waterfall Incense Burner that literally compels incense smoke to drip and flow downward like an ethereal river. Compete with a koi fish pond in the bottom tier, this handmade incense burner—which comes with 50 incense cones and 30 sticks—can promote feelings of relaxation and peace as you watch.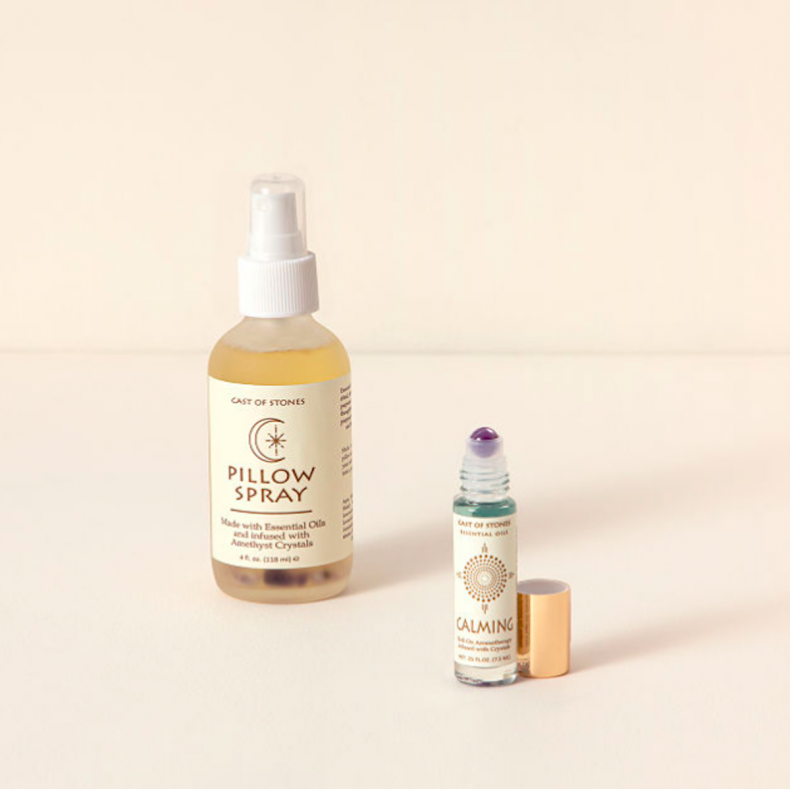 Some crystal experts recommend sleeping with your stones—yep, as in under your pillow—but we understand that's not always a comfortable option. Instead of nodding off with gems under your head, snag the Crystal Infused Sleep Essentials. This sleep kit has everything you need to kiss insomnia goodbye (or goodnight?) for good—a sleep-promoting pillow spray made with essential oils and infused with amethyst crystals. Plus, you'll get a calming rollerball of jojoba, lavender, sandalwood, clary sage, chamomile and patchouli oils and amethyst.
Buy at Uncommon Goods from $22.
The best place to discover new crystals is definitely your local shop (#ShopLocal), but if you're open to buying online, Energy Muse is an excellent resource for rares. The Angel Aura Quartz Point is about 1-inch to 1.5-inches tall and is known to cleanse energy and amplify the spirit. Cleansing and even sleeping with this crystal could promote stress relief and lead to more positive thoughts that soon become your reality.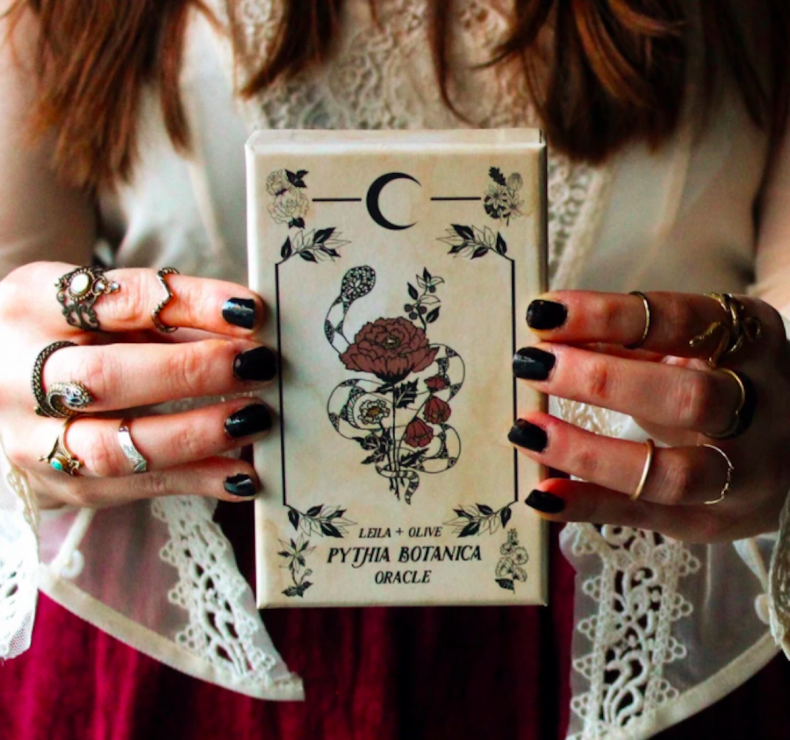 Now, just because you're into crystals doesn't automatically make you a phenomenal tarot card reader. Still, just in case you're interested in learning the trade, the Phythia Botanical Oracle from Leila Olive is a beautiful deck to start with. Each of the 48 tarot cards in this pack is hand-illustrated and tea-stained for a grainy, vintage feel that screams authenticity. Named after the myth of Pythia―an ancient priestess known for her divinations that came from Hellenic gods―these floral tarot cards include deep, meaningful descriptions from which to draw inspiration for your readings.
Newsweek may earn a commission from links on this page, but we only recommend products we back. We participate in various affiliate marketing programs, which means we may get paid commissions on editorially chosen products purchased through our links to retailer sites.