All About the French-Inspired Makeup in 'Emily in Paris' Season 2
Table of Contents0.0.1 How did Emily's look change from Season 1 to Season 2, and…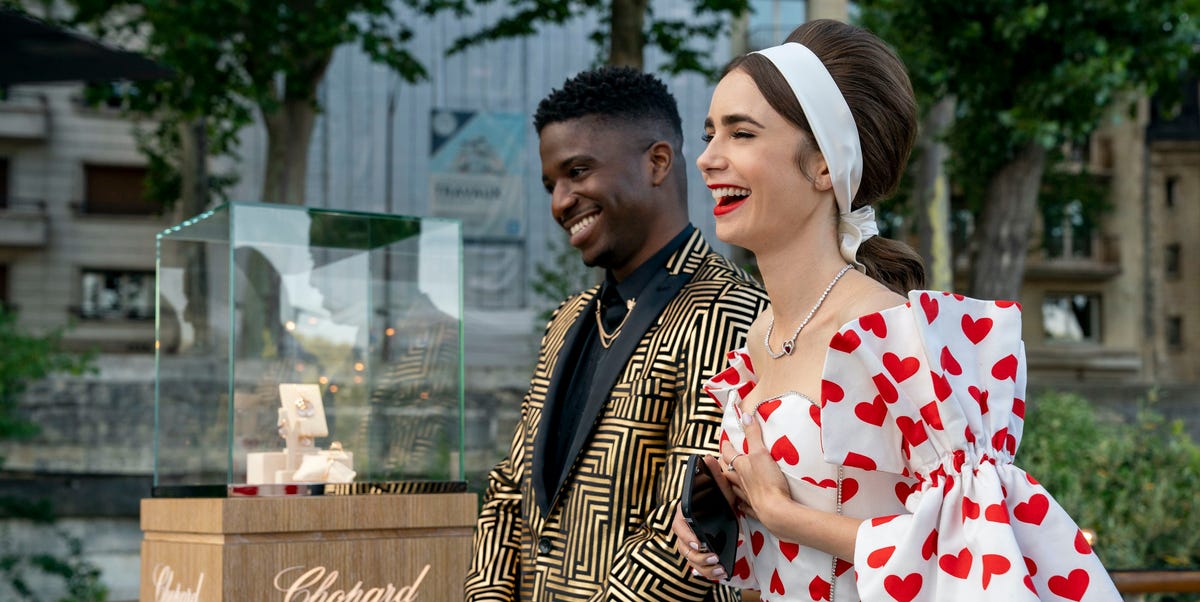 STÉPHANIE BRANCHU/NETFLIX
The long-awaited second season of Emily in Paris finally arrived last month. By now, you've likely binged all 10 episodes. And with the newest chapter comes even more of Emily's colorful, bold, and, at times, polarizing fashion looks. However, her makeup looks stay pretty true to classic French beauty as Emily, played by Lily Collins, acclimates to her Parisian lifestyle.
"She gained maturity at the end of Season 1, and in Season 2, she feels more comfortable in her new environment," Aurélie Payen, the show's lead makeup artist, says. "This definitely shows in bold makeup choices."
Ahead, BAZAAR.com sits down with Payen to break down Emily's beauty looks in the 10-episode drop, the icons and decades that served as inspiration, and how to re-create the chic looks at home.
---
How did Emily's look change from Season 1 to Season 2, and how does that reflect her evolving character arc?
Traveling is a learning experience that teaches you confidence, independence, and freedom. Throughout her journey in Paris, Emily's self-confidence is boosted, and so are her problem-solving skills. In this second season, she adapts to changes while keeping her own personality. Emily is fully embracing French culture and beauty. You can definitely see her shift in the beauty looks she wears.
What's your favorite look from the season?
I love the Versailles look! With hairstylist Mike Desir, we created a look inspired by the Renaissance era, but with a little more of a modern twist.
What's a funny moment you can recall from the makeup trailer?
For bigger glam moments, I would prep Lily's skin with some crazing-looking eye and mouth patches that always gave the entire backstage some crazy laughter.
Were there any decades you pulled inspiration from, and if so, why?
The '60s for sure. The '60s have always been a great source of inspiration for me. It is a period that represents a society in full mutation. It is both the emancipation of the female body represented by the great fashion houses that dared to embrace new trends, but also the enhancement of women by more daring and sexy makeup. I think it is very important to remind the heritage of the '60s and the fight for women's rights in particular. Emily's character embodies this legacy by being free, independent, smart, talented, passionate, hardworking, all with a strong personality. And for all those reasons, she is now a source of inspiration for many women around the world.
Did any specific icons from the '60s inspire you?
We chose to make a nod to actresses who have had an impact or influence on women, either with their style and elegance or by their representation in the world. In the episode where Emily goes to St.-Tropez, we re-created a look inspired by Grace Kelly.
And there's a scene where Emily is cruising on the Seine, and for that look, we pulled inspiration from Brigitte Bardot.
What elements of each iconic woman are translated into Emily's look?
Emily has the elegance of actresses like Grace Kelly, Audrey Hepburn, and Catherine Deneuve, represented by her mystical scarf that was often in these stars' movies, and sultry yet iconic black eyes of influences like Brigitte Bardot or Sophia Loren.
Do you have any tips for re-creating a retro French look?
To re-create a retro look, I recommend eyeliner and red lip. To achieve that French-girl eye look, a good eyeliner is key, but the technique can often be tricky. I always recommend having adequate lighting or a mirror with a built-in light to get a precise line around your eyes. You can adjust the thickness of the liner depending on the occasion or time of day or look that you want to achieve.
The perfect duo for me is applying the Lancôme Hypnôse Stick with Riki Loves Riki Cutie Mirror in front of me. Lips are a quintessential part of the retro look as well, either with a sexy red or a subtler nude. It's all about the prep with a moisturizing lip balm, such as PAYOT Crème N2 Stick Levres. My favorite red to add on top is Lancôme L'Absolu Rouge Drama Matte Red Lipstick.
Finally, any tips for getting a modern Parisian look at home?
For the modern Parisian look, a light makeup with a simple mascara and lip balm … et voilà! French girls love a natural and glowy complexion, which all starts with taking care of your skin. The CurrentBody LED Face Mask is the easiest to achieve a perfect complexion; after just 10 minutes of use, your skin will look radiant and be ready for your skincare.
It is important to start with the right serum and moisturizer that will boost the natural tone of your skin. I recommend Lancôme Advanced Genefique Serum. The perfect French-girl look also includes either a very soft eye shadow or a pop of color. And, of course, to complete the look you need to enhance your lashes to add seduction and to bring more attention to the eyes. Lancôme's Monsieur Big Mascara adds volume and length with perfection.
This content is created and maintained by a third party, and imported onto this page to help users provide their email addresses. You may be able to find more information about this and similar content at piano.io