8 Very best Summertime Nail Trends and Manicure Suggestions 2022
Table of Contents When it arrives to the nail art thoughts and polish types that…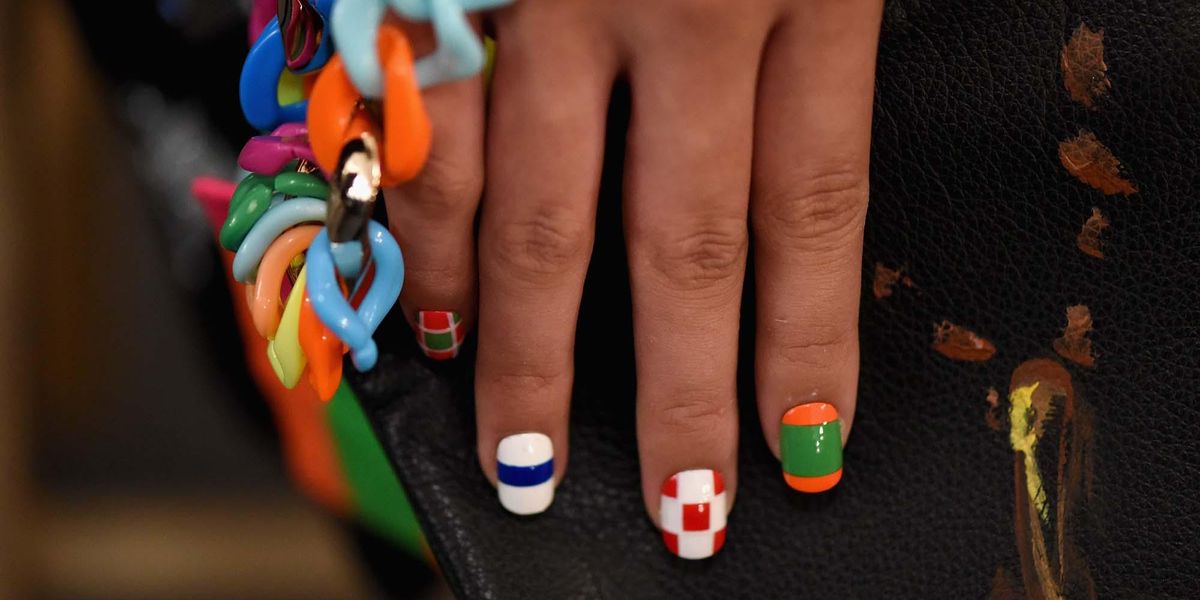 When it arrives to the nail art thoughts and polish types that will be trending this summer months, superstar nail artist Julie Kandelec predicts vivid shades, bold finishes, and head-turning manicures will be noticed all period extended. "This summer time we will keep on to see a wide variety of chrome nails," claims Kandelec. "Lavender will keep on to be a preferred color for nails, many thanks to displays like Bridgerton, and we will proceed to see about-the-top rated nail art, many thanks to demonstrates like Euphoria." To give you some inspiration for the warmer months ahead, we rounded up 8 summertime nail art developments and tips you will want to provide to your future manicure appointment.
This Gilded Manicure
Unfavorable house is one particular nail art craze that'll hardly ever get previous. Swap matters up this summer months with a gold, 3-dimensional consider on the evergreen seem.
Recreate it with:
This Metallic Manicure
Metallic shades are not just for the wintertime months. Include a touch of shimmer to your nails this summer for a subtle statement.
Recreate it with:
This Colorful French Manicure
A rainbow of shades adds a punch to the conventional French manicure.
Recreate it with:
This Eco-friendly and Nude Ombré Manicure
Choose for pastel green ombré nail artwork for a manicure that feels modern day and traditional at the same time.
Recreate it with:
This Multicolored Manicure
Can not pick out just a single shade? Swipe a distinct hue onto every nail for a shiny manicure that'll receive innumerable compliments this summer time.
Recreate it with:
This Blue and Purple Ombré Manicure
Pair a periwinkle shade with a sky-blue hue for a awesome, hazy ombré end on just about every finger.
Recreate it with:
This Studded French Manicure
Stack gems and studs onto your manicure for an eye-catching design this summer.
Recreate it with:
This Abstract Manicure
Instead of selecting 1 nail artwork design and style for your manicure, pair summary swirls with a daring French mani for a one of a kind look.
Recreate it with:
window.REBELMOUSE_Lively_Tasks_QUEUE.push(purpose(){
var makeMonitor = (getStatus, cb, delay) => 100 var watch = () => var time = +new Date() var position = getStatus() if (standing) return cb(status) else if (!stopMonitor && +new Date() - time < 30 * 60 * 1000) monitorId = setTimeout(monitor, delay); else cb(false); , cancel = () => stopMonitor = real clearInterval(monitorId)
enable monitorId, stopMonitor = phony return get started: keep an eye on, cancel: terminate,
var leftArrowCarrousel = makeMonitor( functionality () return document.querySelector( ".shop-sidebar.store-posts .posts-wrapper .slick-following" ) , functionality (res) res.addEventListener("simply click", () => gtag("event", "Still left Arrow Simply click", celebration_class: "Buying Module", party_label: "Earlier solution at carrousel", ) )
)
leftArrowCarrousel.start off()
var rightArrowCarrousel = makeMonitor( operate () return document.querySelector( ".shop-sidebar.store-posts .posts-wrapper .slick-prev" ) , function (res) res.addEventListener("click", () => gtag("function", "Right Arrow Click on", occasion_group: "Searching Module", event_label: "Next product at carrousel", ) )
)
rightArrowCarrousel.start()
var buyButton = makeMonitor( purpose () return doc.querySelectorAll( ".store-sidebar.store-posts .posts-wrapper .widget__product or service-acquire-backlink-btn" ) , operate (res) { for (let button of res) button.addEventListener("click on", () => gtag("celebration", "Get button simply click", function_category: "Buying Module", event_label: `$button["href"]`, ) )
} )
buyButton.start out()
var imageShopp = makeMonitor( perform () return document.querySelectorAll( ".shop-sidebar.store-posts .posts-wrapper .widget__head a" ) , function (res) { for (enable graphic of res) { impression.addEventListener("click", () => gtag("party", "Image click", celebration_classification: "Buying Module", function_label: `$picture["href"]`, ) ) } } )
imageShopp.begin()
var productTitle = makeMonitor( purpose () return document.querySelectorAll( ".shop-sidebar.store-posts .posts-wrapper .widget__headline .widget__headline-textual content" ) , functionality (res) { for (allow product or service of res) { product or service.addEventListener("click on", () => gtag("occasion", "Merchandise title simply click", party_category: "Purchasing Module", party_label: `$product["href"]`, ) ) } } )
productTitle.commence()
})
window.REBELMOUSE_Lively_Duties_QUEUE.press(function()
window.REBELMOUSE_STDLIB.loadExternalScript("https://s.skimresources.com/js/150311X1615657.skimlinks.js", functionality()
)
)
window.REBELMOUSE_Active_Responsibilities_QUEUE.press(operate()
!purpose(f,b,e,v,n,t,s)if(f.fbq)returnn=f.fbq=function()n.callMethod?n.callMethod.implement(n,arguments):n.queue.push(arguments)if(!f._fbq)f._fbq=nn.press=nn.loaded=!0n.edition='2.0'n.queue=[]t=b.createElement(e)t.async=!0t.src=vs=b.getElementsByTagName(e)[0]s.parentNode.insertBefore(t,s)(window, document,'script','https://join.facebook.internet/en_US/fbevents.js')fbq('init', '1248680838922690')fbq('track', 'PageView')
)
window.REBELMOUSE_Active_Jobs_QUEUE.push(function()
window.REBELMOUSE_STDLIB.onElementInViewport( threshold: 400, selector: "online video", oneTime: correct, onIntersect: functionality(entry) var factor = entry.concentrate on factor.setAttribute("permit","autoplay") factor.loop = true element.muted = accurate ingredient.autoplay = correct ingredient.setAttribute("playsinline","legitimate") //aspect.controls = phony aspect.participate in()
)
)